Option 1: Measure Your Finger
Use a floss or string
Learning how to measure ring size is pretty easy. You can make your own DIY ring sizer using floss or string. If you don't have any of those, you can even use paper. Wrap the floss, string, or paper around the base of your ring finger. Use a pen to mark the point where the material first overlaps. Straighten out the string or paper and measure the length in millimeters using a ruler. This is the circumference of your finger.
Pro Tip: Measure your finger twice, thrice, or more (if you prefer) to ensure accuracy.
Use sizer to measure your finger

If you're not sure about using a piece of string or paper to determine your ring size and want to ensure accuracy, then you should use a ring sizer tool. Because many purchases now occur online, it's important to us that our customers have the tools they need to make the right choice. For that reason, we offer a downloadable ring sizer that you can print and use to find out what size you should get. This tool features a gradient of ring sizes which can give you a more accurate measure of your finger. If you choose to download the sizing tool, make sure that your print out is the correct size. Then, cut out the sizing tool.
Starting with the flat end, wrap the tool around the widest part of your finger (which is the knuckle). Keep wrapping the tool around your finger until the fit is snug. Look at where the arrow end is pointing. The closest number to the arrow point is your ring size.
Use the ring size chart to interpret the results
With the downloadable ring sizer, you already get the actual ring size of your finger. However, if you chose to use a piece of string or paper, you'll need to convert your measurement to the actual ring size using a ring size guide. Our ring size guide below features the circumference of a finger in millimeters and its corresponding ring size.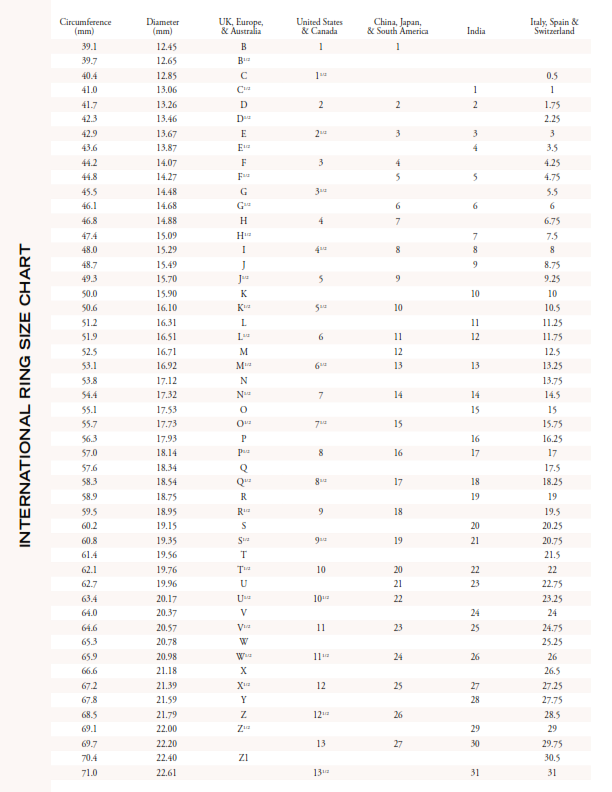 A ring size of 1, for example, has a circumference of 39.1 mm. To find your size, you'll need to compare the measurement you obtained from the string or paper to the conversion chart below.
If you're not sure or you find that your measurement doesn't between two ring sizes, choose the next larger half size. If your finger's circumference is 58 mm, then your ring size is 8.5.
Place a ring you already own on a ring size chart
If you already have a ring that fits you perfectly, you can use that as a reference when measuring your ring size. You can use our true-to-size ring sizing chart to match your "old" ring to the picture on the chart.
This chart features circles that match the measurement of each ring size.

To find the right size, place your ring on one of the circles, making sure that the inside edge of your ring lines up with the drawing. You can double-check your measurement by placing the ring on the next larger size and observing whether the edges line up with your ring. If your ring falls between two sizes, go for the bigger size to be safe.
Online shopping is more than just a convenience. These days, it's a necessity. But not all purchases are easy to make such as jewelry. You can't just 'add to cart' the pieces that caught your eye, especially if size is a factor. Fortunately, there are ways to overcome such challenges. When it comes to rings, you can either make your own ring sizer or download our ring size guide. In short, your partner has no excuse for gifting you with a ring in the wrong size. Even if he or she bought it online.
Bracelets Size Guide
Bracelets                      Wrist Measurements
Extra Small                  4.76-5.25 In.                             121-133 mm
Small                            5.76-5.75 In.                             134-146 mm
Medium                      5.76-6.25 In.                             146-159 mm
Large                            6.26-5.75 In.                             159-171 mm
Extra Large                  6.76-7.25 In.                             172-184 mm
    Find your fit
Refer to our measurement chart or use the ruler found in our size guide to find the size that suits you. 
View & Download complete guide.
Necklaces & Pendants Size Guide
Length (in)                    Length (cm)
16                                   40.50         
18                                   45.75
20                                   50.75
24                                   61.00
30                                   76.25
36                                   91.50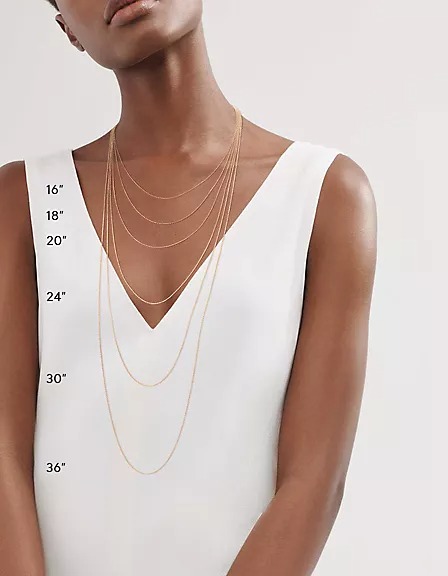 Find your fit
    Necklaces vary by length and can be chosen to reflect personal preference or style.